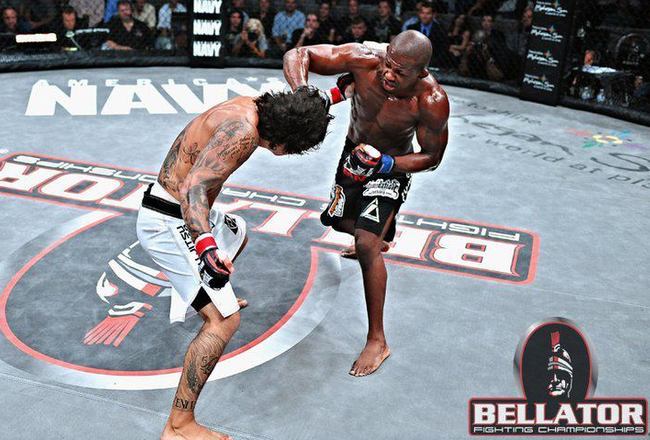 This Saturday, October 15th,
Bellator Fighting Championship returns
to Boardwalk Hall in Atlantic City, New Jersey. One of the most highly anticipated fights on the card features rising lightweight prospect Rene Nazare, who will meet Jacob Kirwan in a televised feature fight.
With a perfect 10-0 record, the 29-year-old Nazare has to be regarded as a fighter to watch.
A native of Brazil, Nazare now fights out of Ithaca, New York. Only two of his 10 victories have reached decision. He has four finishes each by submission and TKO.
I recently spoke with him at his training facility, Ultimate Athletics Gym, home of the BombSquad Mixed Martial Arts Team.
He Has an Elite Brazilian Jiu-Jitsu Base
At 15 years old, Rene Nazare began training Brazilian Jiu-Jitsu in his home city of Teresopolis, Rio Janeiro, Brazil. His coach was Rodrigo Antonio Garcia.
Nazare is a highly decorated BJJ player. He is a four-time Mundial World Champion, having won the tournament in the blue, purple, brown and black belt divisions.
Nazare told me he started to think about attempting
MMA
when he got to brown belt, but his coach insisted he hold back until he was a black belt champion.
His reasoning, as Nazare relates it, was pretty hard to refute: "He said, you're going to have to fight the black belts, you must have a black belt."
It is clear the fighter still buys into his old coach's philosophy: "You have to have the strong ground game."
Even when Nazare has won by strikes, his BJJ has been on prominent display, as he has excelled at putting opponents on the ground, holding position and pounding them out.
He Has a High-Level Training Camp Behind Him
At the beginning of 2011, after over a year without an MMA fight, Nazare moved to Ithaca, NY to join the BombSquad MMA Team and to become the Jiu-Jitsu coach at Ultimate Athletics, the BombSquad's home gym.
Since then, he has reeled off four straight wins, two by submission and two by TKO.
Nazare's happiness with his current training situation is apparent from only a few minutes of talking to him.
"The first time in the gym, I knew everything was right," he says.
"The first time at my school in Brazil," he continues, "I went home and told my mother, that's what I'm going to do with my life. That was the feeling I had the first time at this gym."
It is understandable why a professional MMA fighter would be happy to train at the Ultimate Athletics Facility. Housed in a former Office Max building, it contains two octagons, a boxing ring and heavy bag section, over 3,000 square feet of mat space and fully tricked-out areas for weight lifting and cross-fit style workouts.
Head trainer Ryan Ciotoli was a three-time All-American wrestler for Ithaca College and is a veteran MMA trainer and fighter. He designed Ultimate Athletics to serve as a homebase to MMA champions. On any given day of the week, the gym is full of veterans from the UFC, WEC, Bellator and Strikeforce.
"We have everything we need here to succeed," Nazare told me. "The space, the training partners, the coaches. Every week, I feel like the coaches push me to another level."
He Is a Great Natural Athlete
Armed with a Brazilian Jiu-Jitsu black belt, Rene Nazare is a technical wizard on the ground.
But, beyond that, he has great natural speed and agility, and a high level of athletic intelligence.
That kind of natural athleticism is crucial in a sport like MMA, where competitors must learn techniques from multiple sports and seamlessly integrate them. Nazare picks up skills quickly when working with his boxing coach, Alex Stewart, and his Muy Thai instructor, Primo Bellarosa.
In this linked fight against Kelvin Hackney, Nazare looks very comfortable and fluid on his feet, using good head movement, punches from angles and a very strong defensive wrestling game to completely control the distance and pace of the action.
When the opportunity arises, he is ready to pounce with his elite BJJ game.
He Is a Mentally Locked-In Athlete in His Prime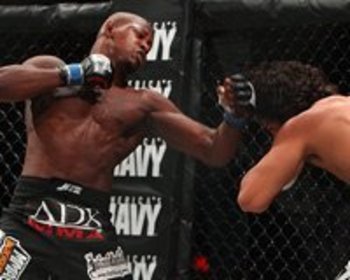 With a perfect 10-0 record and his fights regularly appearing on television, Rene Nazare is poised to be a breakout MMA star in 2012.
The 29-year-old fighter is entering the heart of his athletic prime, and he knows it.
"I'm not a young guy now," he says. "But, I am a long way from being retired, just the coach. This, right now, is my time, so I have to work very hard."
With four straight finishes over the past eight months, Nazare looks very much like an athlete in the zone. His naturally relaxed and cheerful demeanor belies an intense focus.
At this critical juncture in his career, he is single-minded in his approach to the sport.
"Every day has to be serious," he says. "Every day we have to train to be champions."
"I want to do well for my coaches and friends in Brazil," he continues. "For my daughters, for my coaches and teammates. A lot of people helped me...I want to not let them down."
His Next Opponent: Jacob Kirwan
Nazare's opponent for this Saturday, Jacob Kirwan, does not have a big youtube presence that I could find.
But, with an 8-3 professional record, he has clearly accomplished some things in the sport.
He was a Maryland state wrestling champion in high school, and as the linked video demonstrates, he is not afraid of a rugged conditioning program.
Two of his three losses have come by way of choke, one rear-naked and one guillotine.